Dan Carmichael Bowls
As you know we are to try running the Dan Carmichael Competition as a pairs competition, to do this successfully we need at least 12 teams.
Played over 4 rounds of 5 ends each, 2 points for a win, one for a draw, in the event of teams being equal shots will count. Winners of first four rounds go forward to semi final, then winners play in final, teams reaching the final will have to play 30 ends of bowls over the course of the day, so I think 5 ends per round is sufficient.

Please check with your Chapters to see if any of your members are coming along on the day, Enoch have entered 2 teams, Hope two teams, Camperdown have paid, but not sure how many players will be entering, don't know about Ancient or St David or Union.
So Companions if you know of anyone who wishes to play please let me know if we cannot get 12 teams of 2 bowlers then we cannot get the competition played

Even if your Chapter only has one bowler ask them to come along they will probably get a game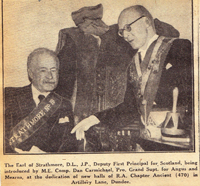 Photo of Dan Carmichael with the Earl of Strathmore in January 1949